Getting The Royalty Treatment
We advertise ourselves as "a song shop that records indie pop with a vintage vibe in a variety of genres." We're a DIY studio band that has no aspirations to play live in front of cheering (or jeering) crowds and holds no expectations of fame and fortune (or infamy and misfortune). We record a song, send it to indie music outlets, and move on to the next one. However, even as we produce our music and spread the GBD love vibe across the worldwide interwebs, we do try to market our songs for potential commercial opportunities, specifically in the realm of synchronization licensing. We like to think that our particular brand of quirky, hooky vintage pop would be a good fit for use in certain TV shows, movies or even commercials, so we've granted ourselves a license to shill, if you will.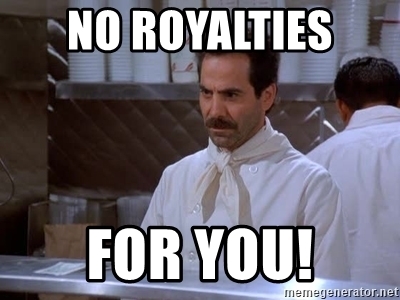 I Had To Sell My Song For A Song
Undoubtedly, there are those who would view the act of taking your artistic creation and sticking it in a commercial as "selling out," whatever that means. We understand that a songwriter might prefer that the beautiful song she poured her heart and soul into not be used in a toilet paper commercial. (With that example, we exaggerated to make a point, so we share the instinctive reluctance to have our songs linked with that particular product. On the other hand, there may very well be people out there who think that a toilet tissue commercial is the exact place where our songs would be most suited!) But for the most part, we think that a good song remains a good song, regardless of its occasional utilization for crass commerce. For instance, "Also Sprach Zarathustra" by Johann Strauss is an impressive composition on its own or as the iconic theme in "2001, A Space Odyssey." If it had instead been featured in a crappy B-movie horror film called "Revenge of the Son of Behemoth Part 2," it would perhaps be an unfortunate use of the piece, but not a sweeping indictment of the actual music. Similarly, using its majestic tones to sell graham crackers may not be an artistically ideal situation, but it doesn't automatically destroy the value of the underlying song.
Keeping that tortured logic in mind, we've explored opportunities to license our own songs. Alas, like the larger indie music scene in general, music licensing is a crowded field. And "selling out" ain't easy if nobody's buying what you're selling. To secure placements, a songwriter has to somehow find a way to get his songs into the ears of the music supervisors who select the music for a project. If you don't have direct connections in the industry that can get your song to the right person (and we certainly don't!), you'll have to get your tunes into a music library where music supervisors sometimes request or search for music with specific characteristics (a particular theme, style, tempo, etc). But the industry heavy hitters like Sony, EMI and Warner Brothers don't accept unsolicited submissions, mostly to avoid the potential expensive legal hassle if they inadvertently use a song and the rights are later disputed. So the best way for an unknown indie band to be considered for synchronization in a project seems to be getting your repertoire into an independent music licensing library that accepts submissions. Music supervisors leverage those companies because they can find pre-cleared music that meets their needs and is ready for immediate use at a reasonable price. You'll pay a hefty fee to use "You've Lost That Lovin' Feeling," but will pay a relative pittance to use our Righteous Brothers tribute "Dance With Me." (Actually, that's a bad example, since nobody wanted that magnum opus tribute to the Righteous Brothers in their licensing library. But you get the point.)
They're Not In The Market For What I'm Marketing
A few years ago, GBD submitted the twelve songs from "Fine State Of Affairs" to a cross-section of independent licensing libraries. As expected, the reaction was spectacularly underwhelming. And we're not just saying that to be blasé and cynical. The indie music scene is crowded with a million bands trying to be heard or to land a synch licensing deal, so we had no expectation of immediately getting a placement. In fact, once we began exploring the libraries and the type of projects that needed music, we were unsure whether the scattershot variety of our oeuvre would be a help or a hindrance. Most of the projects we saw were looking for hip hop, contemporary pop, or cookie cutter country. There were very few calls for Motown songs about chess or gospel lullabies. (Shocking, right? Who knew?) So the feedback we got from our submissions was, in order of frequency: no acknowledgment whatsoever, polite cut and paste rejections that it didn't fit their needs, statements that they intended to review the backlog of submissions as soon as possible and we'll let you know if we're interested (and apparently they weren't), and occasional rare acceptance of specific songs. Luckily, we've got thick skin to match our thick skulls. (Thick skin comes in handy for anyone sending out blind submissions of their carefully crafted creations…we learned that when the very first music blog review of our music used the word "cringeworthy." Ha! A stinging rebuke! That'll show us!)
And so, after being completely ignored and repeatedly rejected, our relentless efforts eventually got a couple of songs into a library. This particular company documents their efforts to shop our vintage-sounding pop songs around, so we could see multiple attempts were being made to place them in TV shows that either took place in or referenced the 60s. But after two years and numerous attempts, no placements had been made. And we were so busy recording and marketing new material for "Manifest Destiny" and "A Song For All Seasons" that we basically forgot that those tunes were sitting in the vast library like musical needles in a haystack made up of other needles. (Sorry for the mangled needle metaphor, but you get the point.)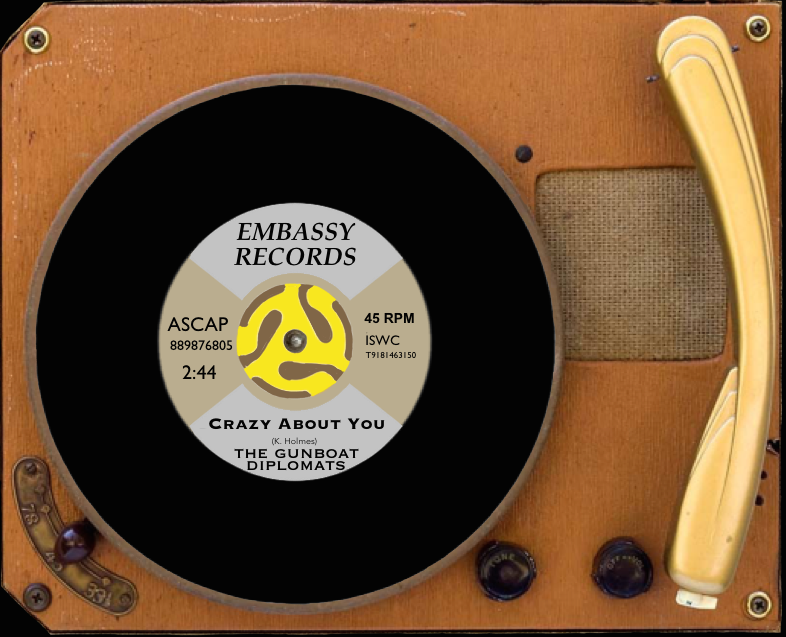 Raising A Glass To "Glass"
Lo and behold, thirty months after having a couple of songs accepted into the library, out of the blue we got a diplomatic message through embassy email that our song had been placed in a major motion picture. Oddly enough, our rambunctious rockabilly number "Crazy About You" was licensed for use in M. Night Shyamalan's dark sci-fi psychological super-hero thriller "Glass." A substantial portion of the movie takes place in an asylum where several characters with super-powers are held for psycho-analysis. It doesn't appear to have been proactively shopped to the project, so our best guess is that the music supervisor (or their assistant) requested or searched the database for songs with a "crazy" theme, somehow landed on our upbeat Jerry Lee Lewis number, and actually had a spot in this tense drama for it. It would seem to be the unlikeliest of choices. Talk about "crazy"!
In the fullness of time, Gunboat Smith finally had an opportunity to see "Glass," and, as expected, enjoyed it very much. Previous Shyamalan movies, such as "The Sixth Sense," "The Village," "Signs," and "Unbreakable" (the first installment in a trilogy that "Glass" completes), were all well-made stories with compelling twists at the end, and this one was no exception. And how did "Crazy About You" fit into the picture? We can reveal which short scene it's in without giving away any plot spoilers. At ten or fifteen minutes into the film, as director M. Night (we're on a first initial and middle name basis with him) makes one of his signature cameo appearances in the movie during a scene in a retail establishment, if you listen closely you can discern the faint sound of "Crazy About You" wafting softly in the background as the "in store" music. (In terms of how the music would be used, we thought that it might be in the background on the radio at some point, but didn't realize that what was in store would literally be "in store.") The superheroes-with-superpowers aspects of the film will perhaps be particularly interesting to comic book aficionados (the movie's comic store patrons are listed in the credits as "Comic Book Geeks"), but it's not a typical tale of musclebound protagonists in spandex saving the world from hordes of CGI-generated invading aliens. "Glass" is a psychological mind game that works on several levels. Do the three characters actually possess these extraordinary powers, or are they delusional? How and why are their fates intertwined? The narrative is gripping as it builds to the climax, partially because the viewer is trying to anticipate what wild plot twist M will introduce. (Now we're on a first initial basis.) James McAvoy's intense transitions through the various, disparate characters that inhabit his multiply split personality (including an abuse survivor, a stern woman, a nine year old boy, a gay artist, and an primitive, atavistic beast-man) are a fascinating spectacle to witness. And if you sit through the credits, after the list of comic book nerd actors, assistant key grips, and meal caterers scrolls by, you'll see:
"Crazy About You"
Performed by The Gunboat Diplomats
Needless to say, it's a distinct pleasure to offer our tune in support of such a well-made production. And the royalty check is nothing to sneeze at either.
In fact, this surprising stroke of good fortune has compelled us to re-focus our diplomatic efforts by submitting some songs from "Manifest Destiny" and "A Song For All Seasons" to be considered for future synch licensing opportunities. Who knows? Crazy things like that have happened before. And, in closing, we invite anyone and everyone to comment on the movie, offer thoughts about synch licensing, opine on music in general, or vent your spleen with scathing, derogatory comments about our heritage. Cheers!