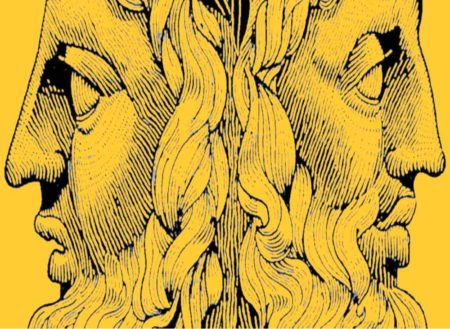 "Hope smiles from the threshold of the year to come, whispering, 'It will be happier.'"
– – Alfred, Lord Tennyson
In the passage above, Tennyson was echoing the optimistic tradition of remembering the past whilst looking ahead for better things to come. New Year's Day offers new beginnings at the dawn of a new day so you can see things in a new light, turn over a new leaf, explore new pastures and get a new lease on life. As they say, everything old is new again. But this desire for new beginnings has been around a long time, so it's also true that everything new is old again. For instance, in Roman mythology, the changing annum was represented by Janus, the god of beginnings, transitions, time, duality, passages, and endings. This duality manifested itself by giving Janus two faces so that he could look to the days yet to come and peer into the misty times that came before, much like Father Time and Baby New Year represent leaving the past behind and forging ahead to a bright future, or, as Tennyson put it, to "ring out the old, ring in the new." And since our brand spanking new song "Take It In" is about ringing in the new year with a smile on your face, we thought we'd take a quick spin through New Year's songs.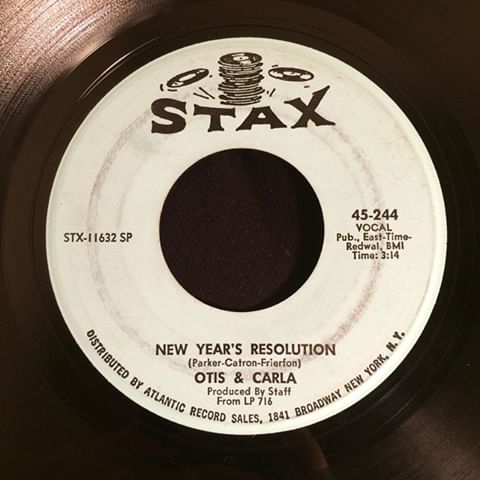 You Say You Want A Resolution
First let us stipulate that we mean to examine songs specifically about New Year's Day, not New Year's Eve, which has plenty of songs in its own right. There are a fair number of popular songs that revolve around the new year, and they run the gamut from reflective to romantic to political. ABBA compares things lost in the passage of time to the old confetti left on the floor from the previous night's celebration in the melancholy "Happy New Year" while Sugarland pines to rekindle a lost romance on "Maybe Baby (New Year's Day)." Otis Redding and Carla Thomas make a soulful promise to stay together on "New Year's Resolution" while the Eagles suffer a brutal New Year's morning hangover on "Funky New Year." And U2's "New Years Day" was about a Polish anti-Communist movement, of all things. Jeez. Our new song about taking the time to enjoy a list of life's small pleasures seems absolutely pedestrian in comparison to themes of time, love and world politics. But, in its defense, it carries on a long, proud musical tradition, too.
A Laundry List Of List Songs
For one thing, "Take It In" is our contribution to a long catalog of what are called "List Songs." (And our effort to mimic the genre proves once again that you can't teach an old dog new tricks.) Epic poems have used this little gimmick as a literary device since the days when stories had to be passed on as oral history. (In the days before written language, illiteracy was rampant…although nobody realized it.) For example, Homer's "Iliad" catalogues two-hundred lines worth of war ship names in exciting dactylic hexameter. The Gospel according to Luke lists fun facts like "…and Salmon begat Boaz of Rahab; and Boaz begat Obed of Ruth…" that stretch on for seventy-seven generations of the Davidic line. (In fact, GBD may write a Cole Porter "Begin the Beguine" parody song about those verses called "Begin The Begats"…actually, the musical "Finain's Rainbow" beat us to the punch with "The Begat": "The time has come to Begin The Begat, so they begat Caine and they begat Abel, who begat the rabble at the Tow'r Of Babel.") Even Shakespeare had Macbeth catalogue an analogy between types of men and dog breeds: ". . . hounds and greyhounds, mongrels, spaniels, curs / Shoughs, water-rugs, and demi-wolves are clept / All by the name of dogs." (What were we saying about old dogs and new tricks?)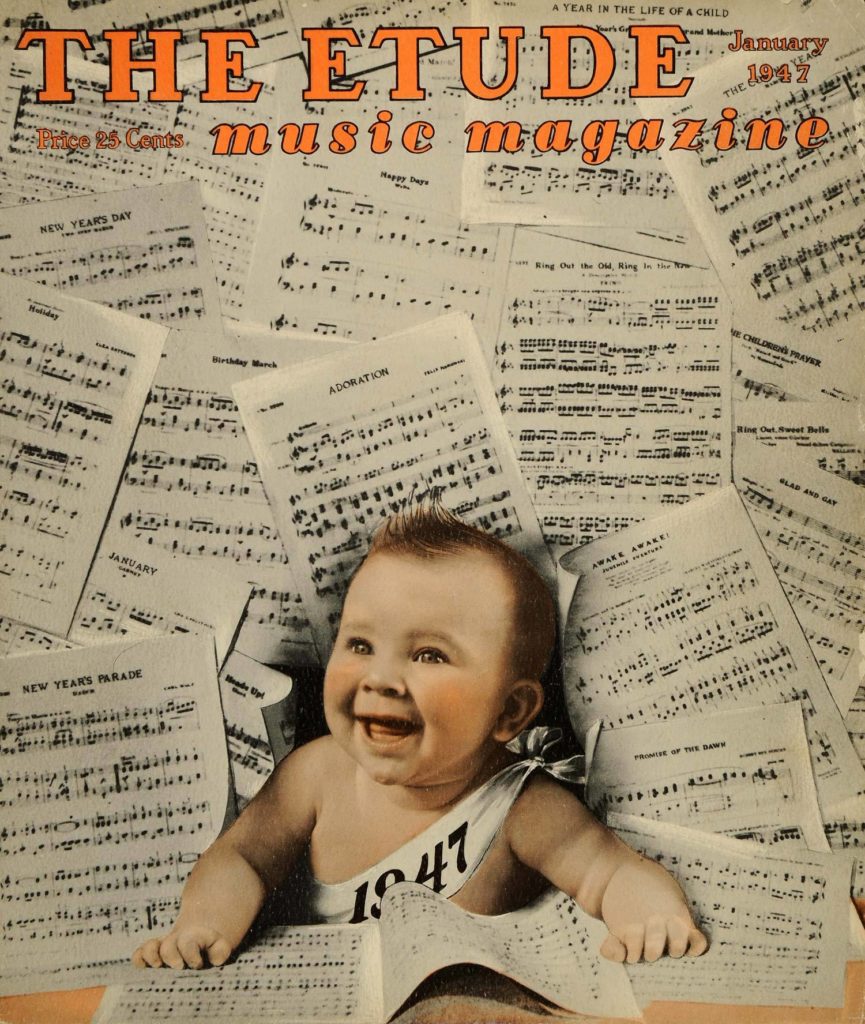 There are metric tons of list songs, by the way. If we loaded up our gunboat with a Homeric payload of the many popular songs that contain lists, she would immediately list to port and sink under the onerous weight. But let's consider just a few songs that use this trick and tick them off of our list. We'll start on the Italian opera stage with Mozart's "Don Giovanni," in which a servant lists his boss's numerous conquests of women from various countries in the iconic catalogue aria "Madamina, il catalogo è questo." That accounting of the boss man's dalliances adds up to thousands of trysts. Who does he think he is, Wilt Chamberlain? Even The Beach Boys, who have confessed to digging girls from the east coast, west coast, mid-west and south, couldn't match that titanic tally. Moving on to Victorian-era theater, in Gilbert and Sullivan's "The Mikado," Koko (the executioner who sings baritone, not the gorilla who knew sign language) lists all sorts of undesirable folks who should be eliminated, from "apologetic statesmen" to "people who have flabby hands and irritating laughs" in "I've Got A Little List." Why, Koko's list of reprobates and rapscallions is almost as comprehensive as Tom Lehrer's roll call of racial, class, and religious antagonists in his ironically titled "National Brotherhood Week." And since we referenced both the Bard from Stratford on Avon and Cole Porter above, let's hop over to the Broadway stage where Porter, the master of silly yet sophisticated rhymes, sandwiched in references to "Othella," "Antony and Cleopatra," and even diplomatic statecraft ("With the wife of the British ambessida / Try a crack out of Troilus and Cressida") in "Brush Up Your Shakespeare" from "Kiss Me Kate." Zounds! How many forced rhymes does that tune contain? Let me count the ways…And before we depart The Great White Way, we should mention the rapid-fire catalogue of composers in the Ira Gershwin/Kurt Weill tongue-twister "Tschaikowsky (and Other Russians)" ("there's Malichevsky, Rubinstein, Arensky, and Tschaikowsky / Sapelnikoff, Dimitrieff, Tscherepnin, Kryjanowsky") from "Lady In The Dark." For the record, we suspect they're all part of a Russian conspiracy. However, none of those named artists will be ringing in any more new years because they all died long ago, as pointed out in excruciating detail in Monty Python's "Decomposing Composers" ("Beethoven's gone, but his music lives on, and Mozart don't go shopping no more / You'll never meet Liszt or Brahms again, and Elgar doesn't answer the door"). By the way, we're glad to see that Liszt made the list.
That darkly humorous roll call of musical greats might be as dead as a doornail, but list songs live on through the modern Top 40 era. Bob Dylan's "A Hard Rain's A-Gonna Fall" chronicles the enigmatic songwriter's allegorical journey through twelve misty mountains, six crooked highways, seven sad forests, and a dozen dead oceans (and, presumably, a partridge in a pear tree). Meanwhile, Johnny Cash loaded his vacation slides into the projector and insisted on telling us about every single place he ever visited from Bangor to Bakersfield in "I've Been Everywhere." And while Mozart and The Beach Boys catalogued women they amorously pursued or conquered, Paul Simon took the opposite approach by listing the many sneaky methods of ending a relationship in "Fifty Ways To Leave Your Lover." (Just slip out the back, drop off the key, make a new plan, and hop on the bus…and you can even earn style points for not being coy.)
It's Got That New (Year's) Song Smell
Our song "Take It In" actually falls into a sub-category of list songs that document a litany of things you enjoy, desire or love. The example with which people are perhaps most familiar is "My Favorite Things" from "The Sound Of Music": "Cream-colored ponies and crisp apple strudels, doorbells and sleigh bells and schnitzel with noodles." (I mean, who doesn't love "schnitzel with noodles," am I right?) Tom T. Hall unashamedly confessed to loving "little baby ducks, old pickup trucks, slow-movin' trains and rain" in "I Love," which might be more "little baby ducks" references than a song actually needs. Well, we're inclined to cut ol' Tom some slack, especially since he wrote the fun and educational "Harper Valley PTA." Apparently, Tom also likes socking' it to small town hypocrites. (Well, they probably deserved it.)
Anyway, after the hungover sad-sack piano prelude, our own New Year's number becomes obnoxiously optimistic and lists lots of things we like, from "a dip in the ocean" to "a Bourbon Old Fashioned." It's all about letting go of your jaded cynicism and enjoying the little things in life. Think of it as a cross between Satchmo's life-affirming "What A Wonderful World" and the cheerful, upbeat vibe of "I Love You More Today Than Yesterday" by The Spiral Staircase. We sincerely hope that our impossibly peppy, jarringly jaunty, and blatantly buoyant little ditty will help you ring in the next 365 on a positive note. Happy New Year!