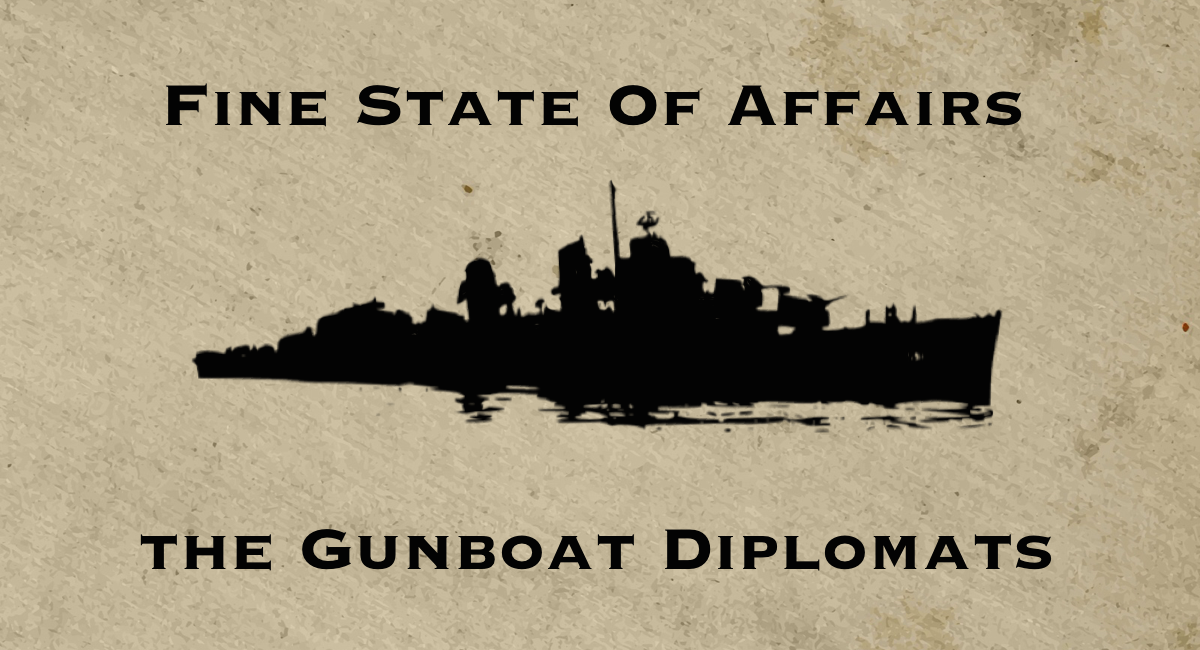 With the recent addition of the title track, The Gunboat Diplomats' first record, "Fine State Of Affairs," is now complete. We cordially invite you to listen to this collection of songs for lonely hearts, obsessive lovers, and hopeless romantics, all delivered with that vintage sound that we would be known for, if we were known. A number of talented performers in our song shop brought this record to life. Many thanks to Chuck Nash, Ken Nasta, Megan Diamond, Frank Pilgrim, Eric Brigmond, Kenny Hamilton, Mystic Dino, Marc Dickman, John Reid, Ty Hanson, Brian Homan, Clarence Hines, Dave Champagne, Stan Piper, Brittany Maroney and Ben Rowell.
"Fine State Of Affairs" is available exclusively on BandCamp at the every day low, low price of: whatever you feel like paying, down to and including absolutely nothing. And whether your chosen price point is zero or something more exorbitant, send us a message to say hello, shower us with praise, or punish us with scathing vitriol. To wit, John from New Jersey bought our record with a generous donation and shared this witty and cogent observation:
"This CD is so good you can go to hell."
From your lips to God's ear, my friend. It's important to have definitive goals and a clear idea of where you're going. Okay, all you listeners on the World Wide Web, keep those cards and letters coming!
By the way, if you haven't browsed their wares, BandCamp is an indie band site full of terrific artists. To celebrate our first sale on the platform, we'd like to provide official diplomatic recognition to fellow BandCampers, Lake Street Dive. They're a really cool four piece band with a hip retro vibe and a soulful lead singer who sounds like a cross between Carol King and Carly Simon. So show Lake Street Dive a little love, won't you?
One final note: We're already working on songs for the next two projects. In addition to hearing almost-exciting news, nearly-fascinating insights, and excruciatingly tedious details about The Gunboat Diplomats, you can listen to and download each new song as soon as it's released by saving our home page to your Favorites and/or Liking our Facebook page.